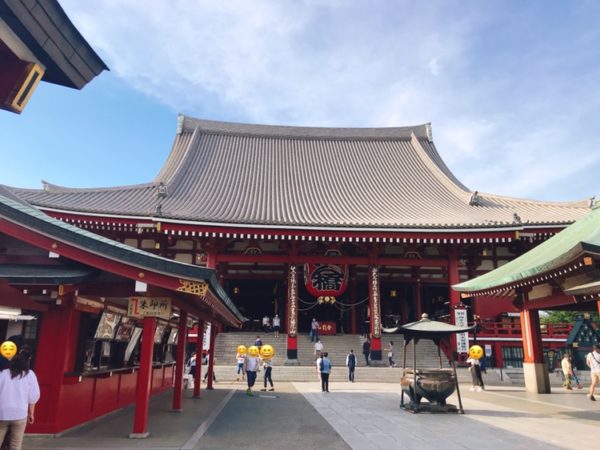 Sensouji Temple is one of the most famous sightseeing spots in Tokyo.
Did you know that it is the oldest temple in Tokyo? It was founded in 628, and its history goes back to the Asuka period(592 to 710).
As many as 30 million people visit the temple each year, it is the perfect place to experience Edo culture throughout the year, not only for annual events such as New Year's visits and Setsubun, but also for the summer Houzuki Market and year-end Hagoita Market.
There are many kimono rental shops nearby, so why not take a stroll around Asakusa in your kimono?
Shrine stamp(Goshuin) we can get at Sensoji Temple
There are two kinds of shrine stamp available at the Sensoji Temple: the "Holy Kannon Bosatsu", which is the main deity of the temple, and the "Daikokuten", one of the seven gods of good fortune in Asakusa.
Where can we get the Shrine stamp?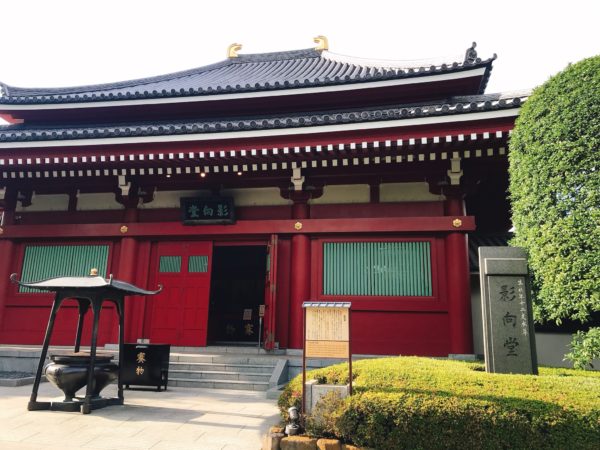 You can get a red seal of the Sensoji temple at the Yogo-do hall on the west side of the main hall.
There is a signboard in the main hall that says "Red Seal Station", so after paying a visit to the main hall, go to the front of the hall to your left and go to the red seal reception desk at Kagemukodo.
If we forget our shrine stamp book, you can get a shrine stamp written on paper, or you can purchase a shrine stamp book for Sensoji.
■ Time: 8:00 a.m. – 5:00 p.m.
■Price of shrine stamp: 300 yen
■Shrine stamp book
"Kaminari-mon(main gate of Sensoji temple)" (red and white)
Golden Dragon (navy blue and red)
Bando Thirty-three Kannon Sacred Sites Nohyocho (Gold)
Bando Fudasho Sutra Book (green)
Looking for souvenirs at the Nakamise street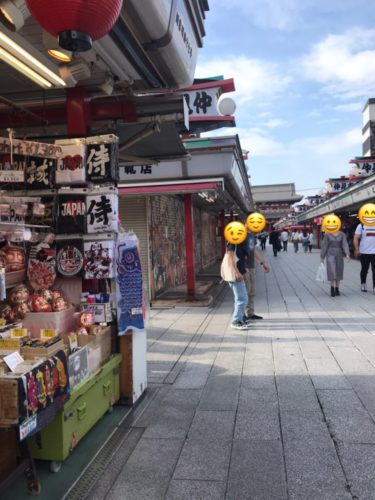 Passing through Kaminarimon, you can see Nakamise, the main approach to Sensoji Temple.
It is one of the oldest shopping streets in Japan, with a distance of about 250 meters.
Around 1685, as the number of worshippers increased, Senso-ji imposed a duty to clean up the grounds of the temple and permitted the residents to set up shop in exchange for cleaning up the grounds, which is said to be the origin of the Nakamise business.
It was once destroyed by the Great Kanto Earthquake of 1923, but two years later it was reborn as a reinforced concrete shopping street painted in red.
And in 1945, the building was destroyed in an air raid on Tokyo, leaving the exterior of the building destroyed, but it was repaired after the war and has been restored to its present form.
Nakamise has grown with the times and recovered from disasters and air raids, and its streets are full of vitality and Edo style.
There are many shops on both sides of the street that sell souvenirs, long-established Japanese sweets and traditional crafts for foreign visitors, and it is hard to decide where to stop.
Many shops sell demonstrations, and Asakusa's specialties, such as "Kaminari-okoshi" and "Ningyo-yaki", are not to be missed.
Ningyo-yaki: "Asakusa Bairindo Nakamise Dori"
Ningyo-yaki is a doll shaped pancake which contains sweet bean paste.
Asakusa Bairindo Nakamise Dori is located just past Kaminarimon.
The Ningyo-yaki is handmade inside the shop, so we can enjoy the freshly made hot food.
Ningyo-yaki is available from 50 yen each! It is so reasonable!
The picture is for the take-out, which has a longer expiry date. And from the upper left, it's the Kaminari-mon, the pigeon, the pigeon again, and the five-story pagoda.
I was wondering why pigeons? But in fact, there is a monument to Hato-Poppo which is a Japanese nursery rhyme in Sensoji Temple.
You can find it just between the main hall and the five-story pagoda.
The shape of the Ningyo-yaki differs from store to store, so it's fun to compare them.
Kaminai-okoshi and deep-fried Okaki: "Kineya Nakamise Dori Honten"
Kaminari-okoshi is a kind of Japanese sweet which rice steamed into a rice cake and roasted, then mixed with starch syrup, sugar, peanuts, and other ingredients into a puffed-up "okoshi-tane" and hardened.
Kineya was established in 1955.
The shopkeeper allowed us to sample freshly fried Okaki at the shop.
This softly textured deep-fried Okaki has salt and soy sauce flavors.
There are more than 70 varieties, including Asakusa's famous "Kaminari-Okoshi" and the "WAZATO KOWASHI WARI-SEN" (deliberately smashed to soak up the flavor). It's also a great souvenir as it lasts for a long time.
They also have an online shop, so you can enjoy the traditional taste of Asakusa at home.
Deep-fried Manju: Asakusa Kokonoe
Asakusa Kokonoe" is the third shop from Sensoji Temple that serves fried Manju
I was lured in by the smell of some savory delicacies, so I stopped by after my visit.
We can buy one piece of Manju and get it freshly fried in the store after our order, so we can enjoy the hot and crispy fried Manju on the spot.
There are a total of 11 types of fried Manju in all.
The picture shows sesame seeds, but there are other flavors such as smooth sweet bean paste, green tea flavored bean paste, purple potato flavored bean paste, pumpkin flavored bean paste, mashed sweet bean paste, cherry flavored bean paste, and custard flavored bean paste.
There is a packaged version for souvenirs, and this one lasts up to two weeks, so you can enjoy it at home as well.
Why not try strolling around Asakusa in a kimono?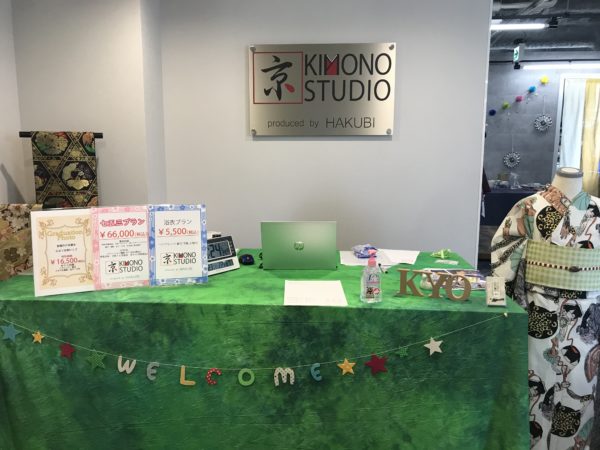 The shop I recommend in Asakusa is "Kimono Studio Kyo Asakusa Orange Street".
This shop offers a wide variety of kimonos and accessories, not only the colorful and flashy kimonos that are often found in tourist spots but also the chic and subdued, adult-looking kimonos.
If you want to become a kimono beauty, this is especially recommended.
We can rent a kimono, dress up, arrange your hair, and have it all taken in a studio by a professional photographer (with all the data) in the shop, so we can do it empty-handed!
In fact, there are a few tricks to get a beautiful picture when we are wearing a kimono.
The angle of your feet, the slightest movement of your fingertips, and the angle of the camera can make a surprisingly different picture.
Since you're going to be doing this, ask a professional photographer to teach you how to pose beautifully and take great photos.
I'm sure it will be a special memory.
■Shop information: "Kimono Studio Kyo Asakusa Orange Street".
THE ROOM Asakusa 4F, 1-16-11 Asakusa, Taito-ku, Tokyo
*4 minutes walk from Asakusa station
■Business hours: 9:30-17:00 weekdays and weekends
■Closed: Indefinite
■Tel: +81 3-5811-1868