In Japane, 9th of September is one of the five festivals, called 'Chou-yo'.
This is also known as the "Chrysanthemum Festival" because people decorated flowers with chrysanthemums and enjoyed drinking sake, wagashi (Japanese sweets) associated with chrysanthemums are displayed in stores around this time of year to pray for longevity.
Since the Heian period, it has been believed that covering the chrysanthemum flowers with cotton on the eve of the festival of Chou-yo, and then wiping your face and body with the scented cotton (kisewata) wet with dewdrops the next morning would have the effect of lengthening one's life.
At the tea ceremony, chrysanthemum sweets are prepared at this time of year, and cotton-covered chrysanthemums are placed on top of the tokonoma (alcove) to look like Kisewata to celebrate the "Chou-yo" festival.
Wagashi of September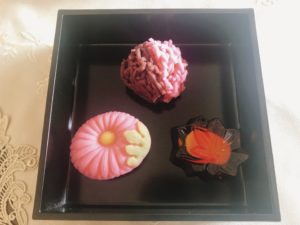 This month, I chose a fresh pastry from one of the oldest of the shops, Toraya.
Speaking of Toraya, it's always yokan, but this was the first time I had purchased a fresh wagashi at the store, and it was big and chunky and had a great presence.
Kiku no Sake, made from mashed sweet potatoes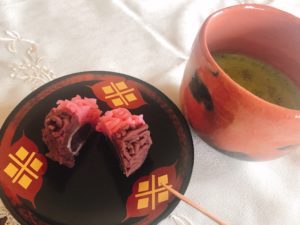 "Kiku-no-Sake" is a wagashi with a subdued coloration of black and red, perfect for autumn.When I cracked it open, I found the red bean paste inside and unintentionally I applauded. This is the perfect Japanese sweets for the Chou-yo Festival.
Price: 486 yenSales period: September 1, 2020 – September 15, 2020
Aruji-gusa, made from Yokan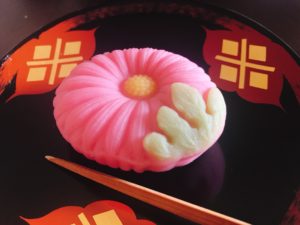 Chrysanthemum has long been loved as a noble and festive flower.This name of wagashi is said to be derived from "Kusanoaruji," another name for chrysanthemum.
This is a beautiful and elegant design of an oval-shaped chrysanthemum flower with a single leaf.
It was filled with white bean paste and the red and white color was very beautiful.
Price: 486 yenSales period: September 1, 2020 – September 15, 2020
Hatsuse no Nishiki, made from sweet bean jelly
Hatsuse is located in what is now Hatsuse, Sakurai City, Nara Prefecture, and has been famous since ancient times for Hase Temple, which is dedicated to the worship of the Goddess of Mercy, and for the changing of the leaves in autumn. Hatsuse no Nishiki is a wagashi with a white bean paste inside and a cool sweet bean jelly made of maple leaves.
Although the calendar says it's autumn, these Japanese sweets are perfect for this time of year when the lingering summer heat is severe.
Price: 486 yenSales period: September 1, 2020 – September 15, 2020
How was Japanese sweets this month? The official website of Toraya is below.