July is the season of Tanabata.
In honor of Tanabata, there are bamboo and bamboo ornaments, the Milky Way, and lovely Wagashi (Japanese desert) with the motif of Orihime and Hikoboshi.
Because of the muggy climate, many of the sweets look cool and taste light and refreshing.
Wagashi with tea ceremony of July
Although every July was supposed to be a summer practice with a leaf lid for a water container, because of COVID-19 situation, I am refraining from practice, so I only introduce the summer-like sweets
This month we introduce ① Kuzu-Zakura, ② Hydrangea and ③ Fu Manju of "Fukagawa Iseya".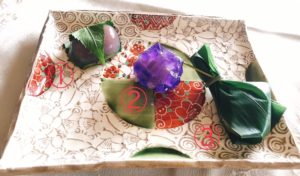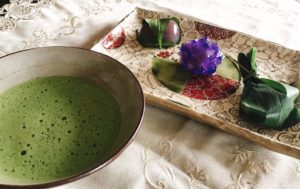 Kuzu-Zakura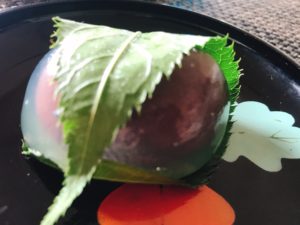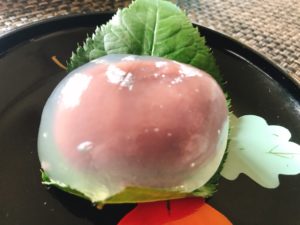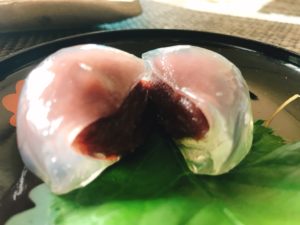 Kuzumochi (pudding-like arrowroot cake) is wrapped by leaf of cherry blossoms.And it looks cool!
The strained red bean paste inside is also very smooth and the feeling of food or drink going down our throat is so good!
Hydrangea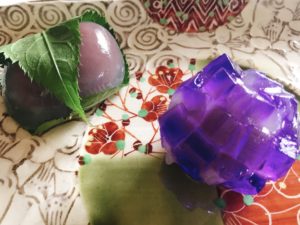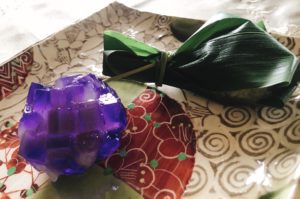 The bright purple color of this one is beautiful to look at!
This sweets is that sweet white bean paste is wrapped with agar (seaweed based vegetarian gelatin substitute).
The chilled agar and its gentle sweetness make it a treat for the eyes and taste buds during this hot season.
Fu Manju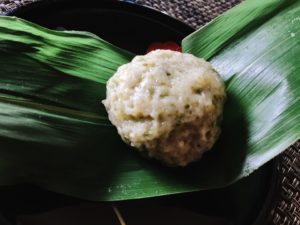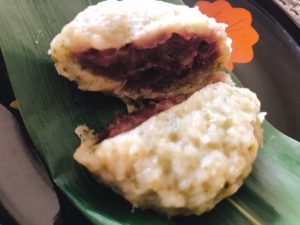 This sweets is that Japanese wheat gluten is wrapped with mashed sweet bean paste.
The glutinous texture, the aroma of bamboo grass and the slight bitterness of fu (Japanese wheat gluten) buns are a perfect match for the mashed sweet bean paste inside!
It was less sweet than the Kuzu-Zakura strained red bean paste.
Store Information:"Fukagawa Iseya"
Established in 1907, they are a Japanese traditional sweets shop in Fukagawa, downtown Tokyo, that has kept the tradition of making Japanese sweets such as dumplings, daifuku, seaweed rolls, and inari (sushi rice wrapped in in fried tofu).
The main store is located near Monzen-nakacho station, and the Hirano store (Kiyosumi-Shirakawa Station), Daimaru Tokyo (Tokyo Station), Ecute Nippori (inside Nippori Station) and Hamayamada (Hamamada Station) are also available.
Their signature products such as dumplings and daifuku are of course delicious, but this time we have a series of visually appealing seasonal sweets. We have a weakness for limited-time items!
We had a delicious Japanese sweets this month too!