Summer is in full swing in August.
It seems like every year the heat gets hotter and hotter.
In Japan, August is the season of Obon, when we welcome our ancestors.
For some people in the area, July may be the month of Obon.
Since it's the hot season, many Japanese sweets have a cool, summery look and feel.
Wagashi with tea ceremony of August
Since there will be no tea ceremony this month, we would like to introduce some cool and chilly Japanese sweets. The Japanese sweets of peaches and jelly which are both visually and palatably delicious.
Matcha and jelly? I was surprised at first, but it seems to be rather common in the summertime.
We had four sweets from Nihonbashi-ya Choubei: (1) Hozuki market, (2) Edo Momo Yoshigure, (3) Morning glory and (4) Goldfish scooping.
Hozuki market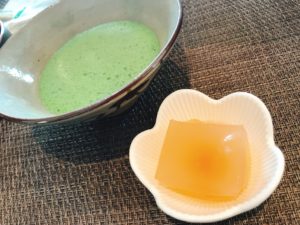 The Hozuki market is called Hozuki-Ichi in Japanese.
The jelly balls made from pureed Hozuki were hidden in the chunky dough!
The "46,000 Days Houzuki Market" is one of the most popular summer events at Sensoji Temple.
The 9th and 10th of July every year is called "Shimanroku-sen-nichi" which literally means 46,000 days, and it is said that if we pray on this day, we will be rewarded with 46,000 days of merit in one day of prayers.
The Hozuki Market is held on the biggest day of the year (a day of special merit).
There was a folk belief that swallowing the fruit of the Hozuki with water would end the adults' irritability (a chronic illness that is difficult to cure) and the children's irritability (a stomachache caused by insects thought to be in their stomachs) would disappear.
This Japanese sweet was named after the Hozuki market.
In my hometown, I was taught that we use Hozuki as lanterns to prevent our ancestors from getting lost when they return during Obon, so I care not to forget to display it.
The Sensoji Hozuki Market was canceled this year due to infection control measures, but we hope it will be held next year.
Edo Momo Yoshigure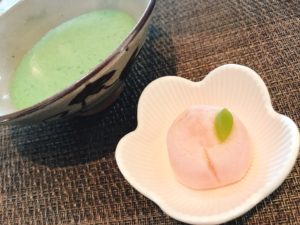 The white peach bean paste is wrapped in a pale red Kimi-Shigure, and the flavor of the peaches fills our mouth more than we expected.
It was a cute little peach shaped wagashi.
Kimi-Shigure is a kind of raw sweets made by steaming and kneading a sweet bean paste, egg yolk, sugar, and rice granules.
Shigure means drizzling rain in late autumn. In this wagashi case, it means an abbreviation for "Shigure Manju," a Japanese sweet made to look like Shigure, which is a crack in the steaming process.
Morning glory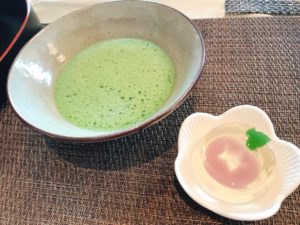 Morning glories bloom brightly on a summer morning.
It reminds me of the summer vacation homework where I wrote an observation diary every day.
Morning glories shaped yokan jelly inside a clear fruit jelly is a cool sweet.
I'm impressed with the fresh fruit-flavored jelly! The red was peach jelly and the purple was muscat jelly.
Goldfish scooping
I fell in love with this wagashi, at first sight, this month, so I decided that I'm going to choose a confectionery from Nihombashiya Chobei for August's wagashi.
Brightly colored goldfish wobble in the lemon-flavored jelly.
In the middle of the Edo period, keeping goldfish, which used to be expensive, became accessible to the common people, and it became popular to keep them.
In summer, the town was filled with the sounds of goldfish sellers, and people would take a moment to cool down and watch the goldfish swim gracefully in the water.
As good as it looks, the flavor was refreshing and perfect for summer.
Store Information: Onkashi-tsukasa "Nihombashiya Chobei "
Nihombashi Main Store
1-6-2 Nihonbashi-Muromachi, Chuo-ku, Tokyo 103-0022, Japan
TEL: +81 3-3242-3030
We had a delicious dessert this month too!