This is their specialty Danish bread.
They use a lot of fresh butter and fresh cream, and every step of the process, from preparation to baking, is handmade.
They tweak the recipe according to the weather conditions of the day, and by layering the dough in 54 layers, they can create a bread that is neither too soft nor too hard.
From the moment we pick it up, we are enveloped in a rich, buttery aroma and it has a solid weight to it.
It's delicious on its own, but warming it up in the microwave gives it a fluffy and moist texture and the flavor and sweetness of the butter increases.
And when you toast them, the fragrant, buttery aroma, and crispy texture will double your happiness!
Standard flavors
① Plain (2 loaves) ¥926 + tax
② Chocolate (1.5 loaf) *Reservation required, ¥1,112 + tax
③ Cinnamon (1.5 loaf) *Reservations required
④ Maple (1.5 loaf) *Reservations required, ¥1,112 plus tax
⑤ Custard (1.5 loaf) *Reservations required
⑥ TSUBUAN(smashed sweet red beans) (1.5 loaf) * ¥1,204 + tax
In addition to the six standard flavors listed above, seasonal products are also available.
In the past, seasonal products have included oranges, blueberries, purple potatoes, and cheese.
In my personal opinion, I love maple and cheese flavors!
There are special red or blue paper bags for gifts, so we can give them as a souvenir.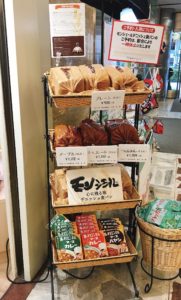 I used to go directly to the factory in Toyocho or behind the Hakuhinkan in Ginza, where only limited quantities were available from 5 pm, so it was difficult for us to buy them the day, but now that they're available at Jimbocho Ichinoichi store, it's easier to buy them.
This photo above is from the Jimbocho Ichinoichi in Yurakucho. Unusually, there was a wide variety of flavors available that day!
After that, it was introduced on TV and for a while, it was difficult to get them unless we reserve it, but recently it's calmed down a lot.
In these days of high-end bread boom and lots of delicious bread, so this is a must-try item, especially for bread lovers.
Please try it!
Store information
① Moncher Toyocho Factory
Sold at the factory, twice a day (once in the morning and once in the afternoon) until they are sold out.
Various flavors of 1.5 loaves and 3 loaves are available by reservation.
It may take a few days to prepare the item for you, so be sure to check with them when you make your reservation.
Address: 24-10, Toyo 5-Chome, Koto-Ku, Tokyo 135-0016, Japan
TEL: +81 3-3615-5811
Opening hours: 24 hours a day, all year round
② Moncher, Hakuhinkan, Ginza (2 loaves of plain flavor only)
Address: 1F Ginza Hakuhin-kan, 8-8-11 Ginza, Chuo-ku, Tokyo 104-0061, Japan
TEL: +81 3-3615-5050
* Closed Saturday, Sunday, and holidays, 5:00 PM until sold out.
・Expiry date: 4 days from production date, approximately 2 weeks if frozen.
・Sales period: Year-round, seasonal products are also available.
・How to buy: in-store sales, local delivery from the factory (by phone or fax only), Jimbocho Ichinoichi's Yurakucho, Gransta Marunouchi and Jimbocho stores
☆Recommendation points from the secretary's perspective☆
Reasonable price, perfect for a home party or casual gift, massive presence.