What we eat with tea ceremony?
At the tea ceremony, traditionally we eat Wagashi (Japanese sweets) just before drinking matcha.
This is like a relationship between coffee and sweets.
Wagashi has each seasonal style such as the appearance, the flavor and the textures.
We would love to introduce some of them as much as we can.
Wagashi with tea ceremony of May
While I was staying home because of COVID-19 situation, I had a craving for Japanese sweets.
On the way to my home from company, when I was changing trains at Shinagawa Station, I found a beautiful Japanese candy and bought it without thinking!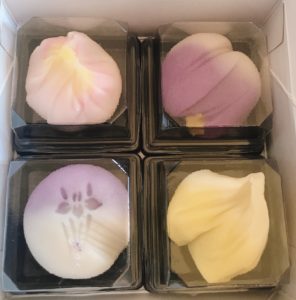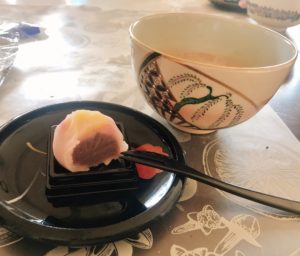 Since it is a high-grade Japanese fresh sweets, Although I think it is proper etiquette to eat it with kaishi paper on top of a pottery or a tiered box…
It looks delicious…
I wanted to eat immediately…
Please forgive me…
They are moderately sweet and, as you would expect, beautiful to look at, and you can see that each one is made with great care.
Although the self-restraint lifestyle exhausted me, the gentle sweetness is soothing and my heart was filled with a little happiness.
Store Information : Meguro "Kashou Miyabian"
Established in February 2004 in Nakameguro, Tokyo.
This is a shop that makes sweets that will make us smile when you take a bite.
There is a wide selection of fried manju, warabi-mochi, dorayaki and seasonal sweets.
Available at the Nakameguro Main Store and the "ecute Shinagawa" South Store.
I enjoyed it very much!